This minor update to DTDownload adds a new feature: DTDownloadQueue now has a download priority.
DTChartView is the very first component that I ever sold. Just like with the recent update to DTCalendarView there are still some stubborn users, so I finally brought it into the present.
DTCalendarView is one of the very first components I started selling on the Cocoanetics Parts Store and the last update to it was 3 years ago. Because it still has a few stubborn users who love it (despite the dated iOS look), I updated it for iOS 7, 64 bit and fixed the warnings of Xcode 5.1.
This maintenance release addresses a few minor build issues with the new Xcode 5.1.
A few days ago I largely finished chapter 5 of my book where I explain how to print a sheet of QR stickers as well as individual serial number barcodes to roll-feed printers. The latter is a new capability of iOS 7 and extremely useful if all you want to print is a single label. This is why I picked the use case of a serial number barcode for my book. The assumption for the sample app is that you want to print a single serial number as Code 93 which you would stick to the back of some corporate IT hardware item.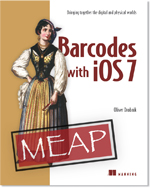 For the past four months I have been working almost exclusively on my Book Barcodes and iOS 7, which is why there have been only very few tutorial blog posts on Cocoanetics.com. Now the first fruits of my labor of love are yours for the picking.
My publisher Manning has started the MEAP pre-order program for the book. This MEAP program gives you – of course – the final book when it is finished, but you can also read the chapters in their raw unedited state as I finish them.
Even better, you can read the first chapter for FREE, no purchase necessary. This chapter gives you a solid overview over the barcode types that iOS 7 can scan, explains their differences and shows where they are used.
Recently we announced that we are starting pre-registrations for developer accounts for our Product Layer project. We bought a few thousand impressions on Ray Wenderlich's well-known tutorial website. Different banner slogans produced different conversion results.
We use Google Analytics in some of our apps, but lately some people have grown dissatisfied with it. In particular non-technical people find it confusing how data is being presented. We iOS engineers had to wait for a long time for Google to finally add arm64 support.
So I asked on Twitter for recommendations.
After a very long time we are able to release an updated version of  Urban Airship Commander (with iOS7 support), our app for easily sending push notifications via Urban Airship. So people and developers out there: Please buy Urban Airship Commander so we can add a lot new features to the app or even create an iPad version!!
One fine day, late summer 2013, I noticed that Apple had added a ton of new functionality to iOS, in particular related to barcodes. This set a train of thought in motion, the fruits of which are just now beginning to show.