Recently updated to work also on iPad and Retina. Now with awesome beautiful design with a custom keyboard just like on the iPad original passcode lock.
Just like the passcode lock mechanism of the iPhone, you can allow your users to set a 4-digit PIN for your own app. Then when starting your app's personal data will only be available to the user.
It mimicks the animations of the original for entering and confirming the PIN. You can also change the number of PIN digits from 4 to 5,6 or 7.
Note: this is not the code that is included with MyAppSales, it has more features and on this gives you the right to use this in your applications.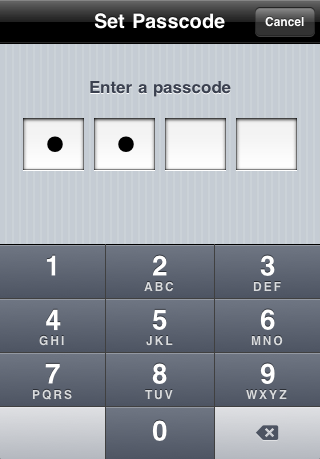 Price: 100 EUR (How many U.S. Dollars?)
Apps using this component:
Customer Quotes:
"My new version of 69 Positions featuring your passcode lock was approved the other day! Thank you again, I've gotten a ton of positive feedback from my users for implementing it!" (Michael Karr)
Links: Developer's Forum, Cocoapedia
Parts Categories: Cocoanetics