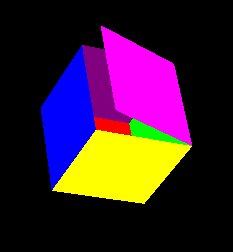 One of the big mysteries of CoreAnimations are 3D transforms. You might have seen them used in popular apps like Flipboard (page turn) but there are hardly any good tutorials in how they actually work. In fact, you find only one from 2008 what was written when OS X Leopard was still around.
I blame that there are several things that are counterintuitive about using 3D transforms and perspective with CoreAnimation why not more people play with it … and then write up what they learned in some useful guide.
Session 421 Core Animation Essentials  from WWDC 2011 had an example of 6 squares that would animate into a three-dimensional box that the presenter could even rotate around. That inspired me to figure out how to do this as well, and with the help from several people on twitter I was successful.